The Ugliest Girl In Town
was a short-lived sitcom of the late '60s, remembered now for two things. The first is its whacked-out premise. A gofer at a Hollywood talent agency (the late Peter Kastner, star of Francis Ford Coppola's
You're A Big Boy Now
) falls in love with an English actress making a horror movie in the US. When she goes back to Swinging London, he follows her by dressing as a girl (?), and -- through a series of plot devices too mind-bogglingly complicated to list here -- becomes a Twiggy-like sensation as a fashion model.
As ludicrous as
TUGIT
sounds, it actually seems to have had some of its basic premise "borrowed" by the megahit
Tootsie
.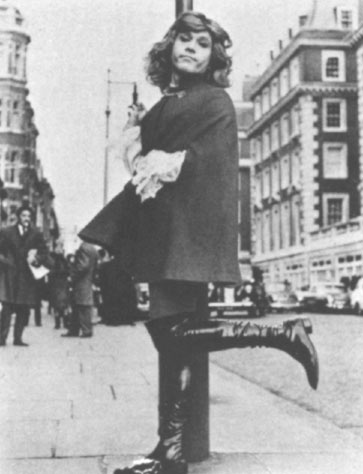 But the most fondly remembered aspect of
The Ugliest Girl In Town
is its theme song, written by Howard Greenfield and Helen Miller. Greenfield (1936-1986) is a legend among Brill Building rock aficionados, writing the lyrics for longtime collaborator Neil Sedaka's hits as well as classics like "Crying In The Rain" with Carole King.
Who owns that fabulous face?
The Ugliest Girl in Town
Who's clothes are setting the pace?
Mia or Sophia
This is the year of the clown
Be the chickiest, freakiest
Ugliest Girl In Town!
Musically the theme is a catchy if blatant cop of "Georgy Girl", sung by a group of Seekers imitators called The Wall-o-Bees. about whom I know nothing.
Does anybody have the long version?
Was
there a long version?